PRIORITIZE PLAY
Bocce ball is a traditional Italian game that has since become popular internationally. Because the game requires strategy and precision, maintaining a flat, level surface is critical. Artificial turf is an option requiring less maintenance, so it does not need the same degree of care and attention as organic grass. This is particularly important for a bocce ball court, which requires being kept in excellent condition to keep gameplay fair and fun. Due to its sturdiness and resistance to abuse and harsh weather, it can stand up to lots of use and can be played on as fast as half an hour after it rains, even better it'll hold up for many years. Natural grass can become waterlogged and muddy in bad weather, making it unusable for playing bocce ball. You can be sure that artificial turf will stay dry and playable. Because of this, bocce ball can be practiced all year long, regardless of the weather.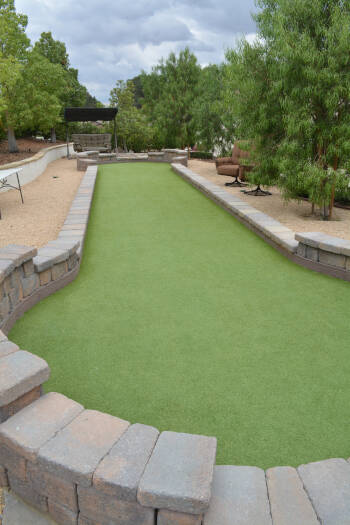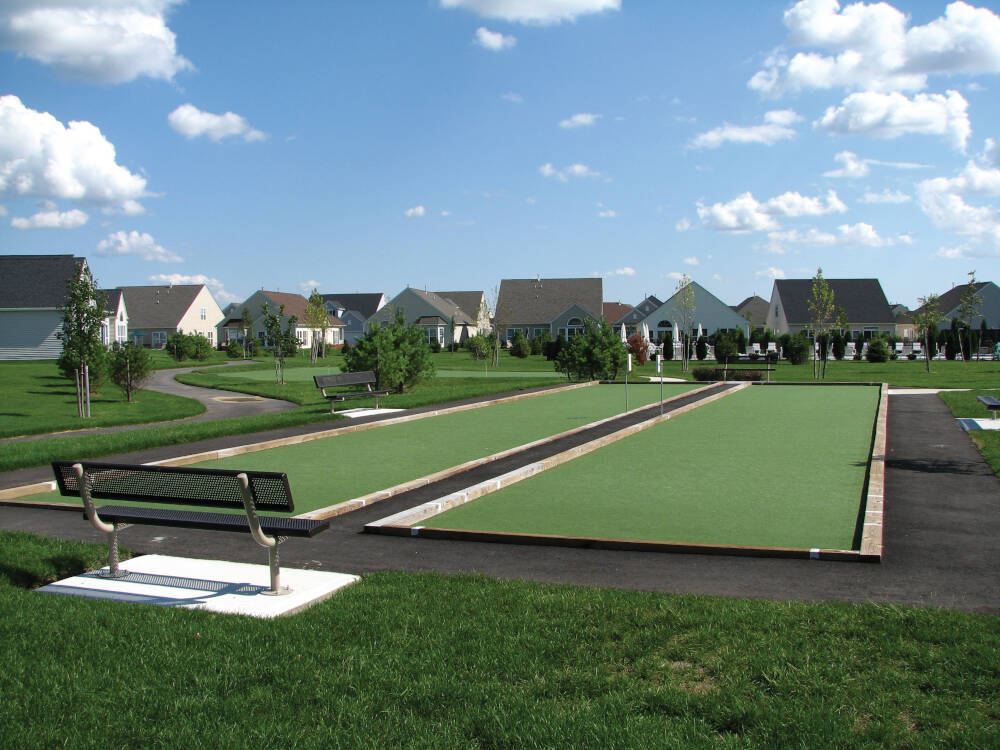 CUSTOMIZED BOCCE BALL COURTS
Bocce courts are typically designed to be 60 feet by 12 feet, but the court size can be modified to fit the playing space available. As pioneers in the artificial turf industry, we've endeavored hard to provide you the highest-quality synthetic grass products for a broad range of applications. One of the many areas we succeed is custom bocce ball courts with a custom-made turf specifically for Bocce. We recognize how to create a perfect court and base built around playability with the art of installation provided by Southwest Greens of Asheville.
FUNCTIONAL & BEAUTIFUL
When it comes to envisioning your own turf surface for a bocce ball court, Southwest Greens of Asheville offers various options to address different needs and preferences. Our 25+ years of putting green experience offer the best performance in bocce surfacing. Our best bocce ball artificial turf is the SWG Bocce Pro. This turf is made with a dense, short pile height, which yields consistent ball roll. Though its installation will ensure that the ball will not bounce or roll unpredictably. The turf also has an authentic color and is infused with UV inhibitors to prevent sun-induced fading. This turf is made to offer a more realistic look and feel. The SWG Bocce Pro turf is also very durable and can survive heavy use without showing signs of deterioration. This makes it so great for bocce ball courts that are used often.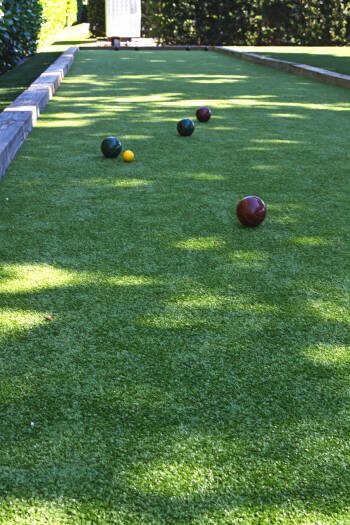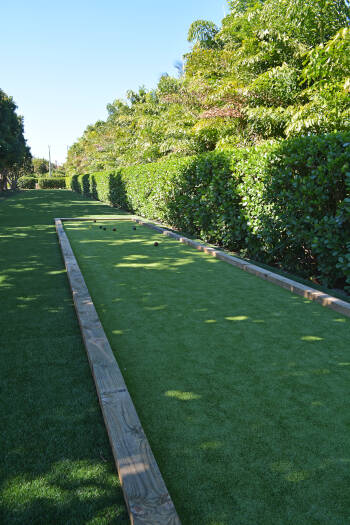 DESIGN IT YOUR WAY
We value beautiful greens. Take advantage of our customized design services for your new bocce ball court. Here at Southwest Greens, we can create a customized design plan for your specific needs and preferences. The synthetic turf bocce ball court can be tailored to fit your available space and feature different patterns to create a one-of-a-kind appearance. Incorporate logos or graphics into the design? Not a problem, too. This is an perfect choice for businesses or organizations that wish to promote their brand.
GET A QUOTE TODAY
The professionals at Southwest Greens of Asheville can create a surface for playing bocce ball that is both functional and attractive. Whether you're a Asheville property owner looking to add a fun, invigorating space to your backyard or a business looking to create an welcoming outdoor area for your employees or customers, the experts at Southwest Greens have you taken care of!