TRANSFORM YOUR GOLF GAME
If you want practice your short game any time, indoor putting greens are your solution. Completely tailored to fit your area, our designs have a specially shaped base for true-to-life play. Discover the world of indoor putting greens and unlock the countless benefits that will enhance your performance and elevate your lifestyle.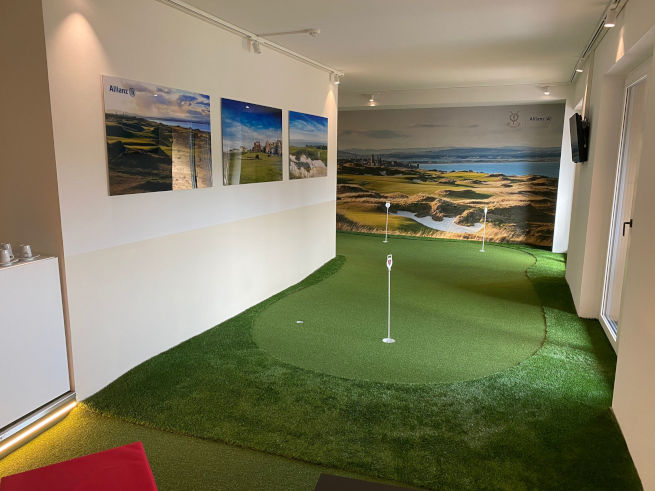 PUTTING MATTERS
Putting is never just another aspect of golf; it's vital for success. Did you know that roughly half of your shots are on the putting green? Despite this, many golfers neglect putting practice in favor of the driving range. While driving ranges are exciting, they cannot refine your short game like an indoor putting green can. Our high-quality putting green turf, made from short-pile artificial grass, ensures your golf balls roll true every time.
WHY CHOOSE INDOOR PUTTING GREENS?
An indoor putting green will not only transform the look and feel of your home or office space but will, more importantly, let you hone your golf game whatever the season or weather, and the benefits of owning an indoor putting green surpasses the cost significantly.
YEAR-ROUND PRACTICE
Don't let the weather dictate your practice schedule. With an indoor putting green, you can perfect your skills whatever the season.
HIGHLY CUSTOMIZABLE
Tailor your green to align with your preferences. Choose a layout, contours, hole patterns, add-ons, and colors that match your personality.
COST-EFFECTIVE
Spend less on golf expenses like club memberships, greens fees, and travel. An indoor putting green is a wise investment that yields returns in the long run.
EASY MAINTENANCE
Enjoy the advantages of virtually maintenance-free synthetic turf. Keeping your indoor putting green clean and in top shape is simple.
PRACTICE ANYTIME
Whether you're new to putting or a seasoned golfer, an indoor putting green is your ticket to enhancing your short game at your convenience.
ENHANCE YOUR HOME
Upgrade your home's aesthetics with an indoor putting green that demonstrates your personal taste and passion for golf.
ENTERTAIN FRIENDS AND FAMILY
Host exciting get togethers with a golf-themed dinner party. Even the little ones can join in the golfing fun.
AUTHENTIC PLAYABILITY
Our synthetic turf mimics natural grass, giving you a playing experience that meets or outdoes your favorite Asheville golf course.
CHOOSING THE PERFECT SIZE
A big advantage of indoor putting greens is their versatility in space. Whether it's a tiny corner or an open room, we can tailor your green to integrate perfectly. Plus, our underlayment adds contours and natural slopes for a realistic golf course feel.
Some popular indoor putting green sizes include:
7.5' x 15'
15' x 15'
25' x 15'
Uncertain the size that fits your space? Let Southwest Greens help you find the perfect fit.
PRICING YOUR DREAM INDOOR PUTTING GREEN
Curious about the cost? While we can't give an exact number here, we're happy to shed light on the elements that influence the price for you. Typically, Asheville indoor putting greens range from $15 to $30 per square foot. Factors to think about include the size of the green, the materials used, and how it's installed:
Base materials
Green dimensions
Design complexity
Number of cuts
Site access and prep
Additional features
Installation
For an accurate quote and a thorough breakdown of your indoor putting green pricing, reach out to our team at Southwest Greens today. Let us turn your golf dreams into reality!